Companion Product to NuGuard GripStand Offers Convenient, Plug and Play Solution for Classroom, Office, Retail, Healthcare, and Other Multiple iPad User Environments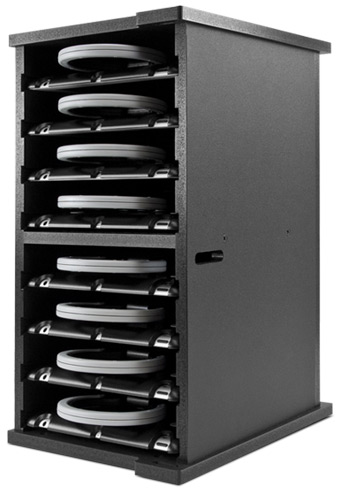 Las Vegas, NV
— Newer Technology, Inc. (NewerTech®) http://www.newertech.com, the leading developer of PC, Macintosh®, iPod®, iPhone®, and iPad® performance upgrades and accessories, today announced the GripStand™ Station, the Plug and Play storage, charging and syncing solution for technologically savvy classroom, office, retail, healthcare, and other multiple iPad user environments. Designed specifically for use with NuGuard® GripStand 2 and GripStand protective iPad cases (sold separately), the GripStand Station allows iPad tablets to slide easily and securely into one of eight bays to store, charge and sync. The new, made in the USA GripStand Station and other unique Newer Technology products will be demonstrated in Other World Computing's booth #5231, LVCC North Hall, at the Consumer Electronics Show (CES), which begins tomorrow in Las Vegas, Nevada.
Easy to Use for All Ages
iPad users of all ages will find GripStand Station easy to use. Simply slide a NuGuard GripStand protected iPad into one of the eight bays until it connects to the installed Apple® Certified Dock Connector. Embedded cable channels on the back of the unit cleanly route the USB charging cables to protect them from bending, pinching or accidental removal and/or tangling. To begin charging, users simply connect the dock cables to the factory supplied iPad power adapter.
Stores Multiple iPads Securely in Minimal Footprint
The GripStand Station's small footprint makes it easy to set up on a desktop, shelving unit or any other horizontal surface. Constructed from 100 percent recycled plastic, the unit is highly durable while non-skid rubber feet make sure it stays put. For added stability, pre-drilled anchor points enable the GripStand Station to be securely mounted to a flat horizontal surface or to additional GripStand Stations when stacked with included anchoring hardware. To prevent unauthorized iPad use or theft, an optional stainless steel security bar and boron-carbide four-dial combination/keyed padlock are available.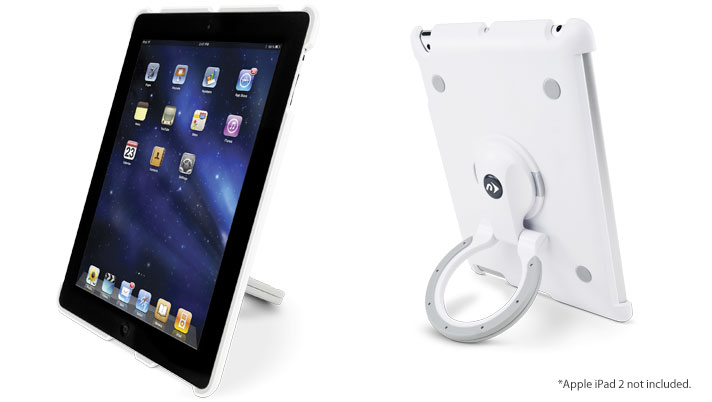 Ideal Companion Product for GripStand
The GripStand Station was designed as a companion product for the media favorite iPad case—the NuGuard GripStand. Offering the functionality of a multipurpose tool for the iPad, the GripStand's hard plastic protective shell grips an iPad snugly while enveloping it in a shock-absorbing inner rubber liner. The removable, skid resistant desktop stand can be swiveled 360° and positioned at virtually any angle for viewing or typing needs. The desktop stand also doubles as a highly effective, ergonomically designed handgrip so the iPad can be securely used while standing or walking. With the protective qualities of the case and the sturdiness of the dual purpose stand and handgrip, the NuGuard GripStand is perfect for environments where the iPad will be subjected to unpredictable handling and movement. Leading media outlets have called the GripStand "Absolutely amazing...the most clever way to carry, display, and use your iPad."—MyMac; "Makes the iPad an even better desktop companion."—Gear Diary; and "Nice modular design, good shock absorption, a great table stand."—Insanely Great Mac.
GripStand Station Features
• Allows up to eight GripStand-equipped iPads to be stored and charged simultaneously
• Apple Certified Dock Connectors are effortlessly engaged as each iPad is inserted • Enables users to wirelessly sync via iOS 5
• Space-saving, stackable design allows you to charge and store multiple iPads in the same footprint
• Dependable yet environmentally responsible housing is made from 100 percent recycled rugged plastic for durability and stability
• Integrated wire management protects USB charging cables from damage, accidental removal, and/or tangling
• Non-skid feet provide stability, and pre-drilled anchor points make it easy to affix to a table or desk
•Optional stainless steel security bar and boron-carbide, four-dial combination/keyed padlock protects the iPads from unauthorized use and theft
• Designed and made in the USA from 100 percent recycled plastic
"Before formally introducing GripStand Station, we had it thoroughly tested and approved by educators for use in classroom settings," said Grant Dahlke, Brand Manager, Newer Technology Inc. "With its proven performance in that type of demanding use, we're excited to offer the most affordable and convenient solution to office, medical, retail, and other multiple iPad use environments seeking to centralize their storage, charging, and even wireless syncing needs."
Up to 1/5 Lower Cost, More Convenience than Other Storage Options
The GripStand Station, priced at $499.95 MSRP, represents a 3-in-1 solution that costs up to 1/5 less that other iPad storage products which don't offer a 'slide and attach' connectivity to Apple's Dock Connector. The GripStand Station is immediately available from Newer Technology's exclusive distributor, Other World Computing (OWC®) at the special introductory price of $379.00, as well as through select retailers. For more information on the GripStand Station, visit: http://www.newertech.com/products/gripstandstation.php. For more information on Newer Technology's complete line of accessories and upgrades for Macs, PCs, and iOS devices, visit: http://www.newertech.com/products.
About Newer Technology, Inc.
Since 1984, Newer Technology, Inc. (NewerTech) has been recognized as the leading developer of performance upgrades and accessories for Macintosh and PC computers, iPods, iPhones, and iPads. Newer Technology is headquartered in Woodstock, Illinois.