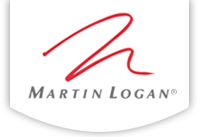 The slimmest MartinLogan speaker ever features a multitude of install options and will change the perception of what is possible from a low-profile speaker.
Las Vegas, NV – International CES 2012 – January 10-13 –Venetian 30-335 – MartinLogan, the world's leader in electrostatic speakertechnology, proudly announces the slender Motion SLM, a wall-hanging or freestanding LCR speaker that is powerful enough to stand alone and detailed enoughto be used in conjunction with floor standing MartinLogan speakers. The newestfrom MartinLogan's award-winning Motion Series line, the Motion SLM feature sdual four-inch, ultra-slim fiber cone woofers and dual four-inch high-velocity passive bass radiators, paired with a Folded Motion™ tweeter – all in anultra-slim profile designed expressly for super-thin TVs.
Slim enough to complement the thinnest wall-mounted HD displays and even projection screens, the Motion SLM steps in whereunderpowered, unnatural sounding TV speakers fall short. The secret to theMotion SLM's larger-than-its-size performance is the dual ultra-slim fiber conewoofers and high-velocity passive bass radiators, which provide maximumcontrolled low-end bass extension from an ultra-slim profile combined with theadvanced resolution Folded Motion tweeter. The high-gloss black SLM cabinet isonly 1.45-inches thin, for a total wall protrusion of 1.83-inches when usedwith magnetic grille and included wall mount bracket.
The advanced resolution Folded Motion™ tweeter featureslightning-fast transient response and a surface area eight-times that of atypical 1" dome tweeter, for clear, highly dynamic and precise sound.MartinLogan's dedicated in-house engineers carefully crafted the Motion Seriesas an affordable and compact product line that seamlessly blends the exquisiteFolded Motion transducers with powerful, compact bass technology. The result isa smooth, refined sound with stunning dynamic range and jaw-dropping clarity.
Designed for maximum placement flexibility, the MartinLoganMotion SLM can be placed just about anywhere for your convenience. With keyholeslots on the speaker's back panel that attach easily to the included wallbracket, you can have the SLM wall-mounted and playing in a matter of minutes.If on-wall mounting is not appealing, each speaker also comes with a curvedblack-glass base that allows it to sit vertically on a shelf or in an equipment cabinet.
Thinking of going horizontal? The Folded Motion tweeter has an 80° x 80° dispersion pattern, which allows the Motion SLM to sound exactlythe same in a horizontal or vertical orientation, making them ideal forLeft-Center-Right (LCR) applications. Each MartinLogan's Motion SLM includes"kick-stand" brackets that attach to the back of the cabinet,allowing them to free-stand for horizontal center channel applications. Additionally, the logo on the grille is magnetic and can move and rotate to the proper atheistically pleasing location in any orientation.
The Motion SLM speaker is priced at $499.95 each and is shipping worldwide to MartinLogan dealers. For more information on the new Motion SLM from MartinLogan,please visit their website at: www.martinlogan.com/motion.
###
About MartinLogan,Ltd.
Since1983, MartinLogan has handcrafted high performance electrostatic speakers.Their award-winning designs, advanced technologies, and outstanding customerservice have long made MartinLogan's amazingly detailed speakers a must havefor home theater and music lovers around the world. Located in Lawrence,Kansas, MartinLogan's dedicated in-house design and engineering team carefullycreates each speaker to provide unparalleled sound reproduction along withindustry leading aesthetics.